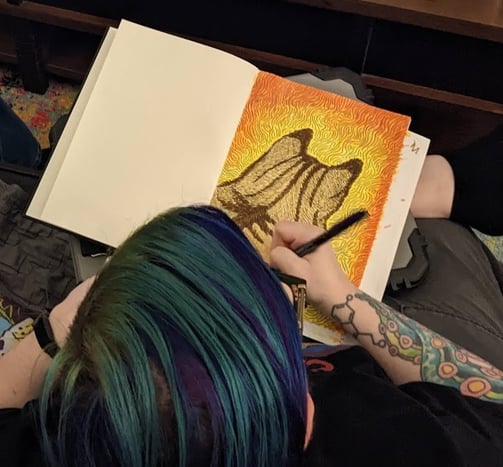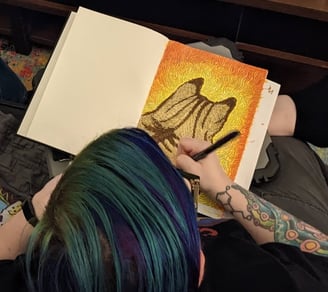 Illustrator.
AKA Ren Fracture
Trash punk non-binary artist.
Preferred pronouns = they/them their
Maker of mini comics & zines.
Freelance artist from the Detroit Michigan area.
Ren Morrison explores issues related to gender expression, identity, and coping with depression through the process of creating art. Their artwork often touches on experiences of the past. They had transitioned in their early 20's from female to male. After living a few years as a male, Ren realized that it didn't feel entirely right. Then ten more years past as they transitioned to non-binary.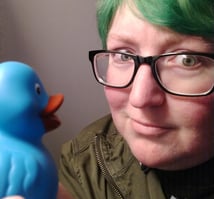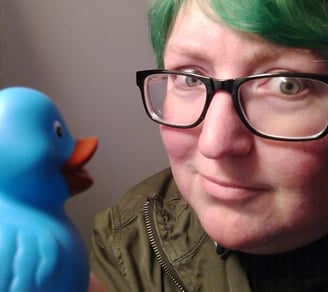 2012
TALK Hatchback 6, Hatch Gallery, Hamtramck, MI US
LIVE ART Dirty Show 13, Bert's Theater, Detroit, MI US
VOLUNTEER 5th Monster Mash for Literacy Bash, MI, US
VOLUNTEER Sabrina's Voice Foundation, Allen Park, MI US
2011
VOLUNTEER Shadow Art, Corner Brewery, Ypsilanti, MI US
LIVE ART Sonic Sketch Event, Sloan Museum, Flint, MI US
LIVE ART Rainy Day Art, Grosse Pointe Woods, MI US
LIVE ART 4th Monster Mash for Literacy Bash, MI, US
2010
LIVE ART 3rd Monster Mash for Literacy Bash, MI US
VOLUNTEER Reify Guardian, Studio 628, Royal Oak, MI US
VOLUNTEER Children's Show, Studio 628, Royal Oak, MI US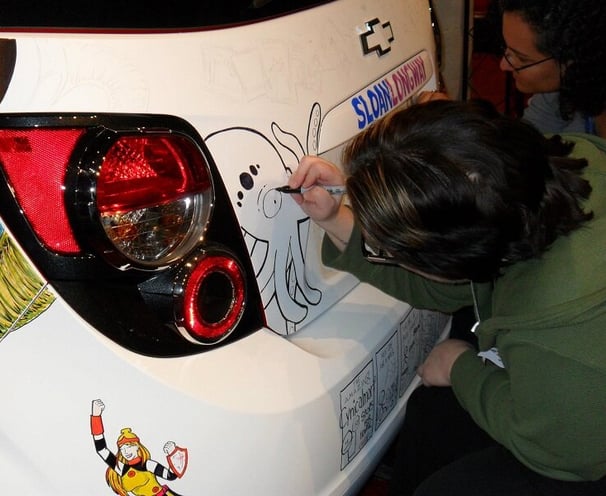 2020
Damned Online Showcase, An Exhibition of Enlightened Darkness,
https://www.thatdamnedshow.com/showcase/
By the Book, City Jen, Westland, MI US
2019
Anniversary, City Jen, Westland, MI US
2018
Inspired By, City Jen, Westland, MI US
Cat mania!, Tangent Gallery, Detroit, MI US
2017
Damned X, Tangent Gallery, Detroit, MI US
Anniversary, City Jen, Westland, MI US
Solo Show, City Coffeehouse, Allen Park, MI US
Halfway2Halloween, Tangent Gallery, Detroit, MI US
Small Wonders 5, Atomic Cafe, Hamtramck, MI US
2015
Conspiracy 2, Atomic Cafe, Hamtramck, MI US
Small Wonders 3, Atomic Cafe, Hamtramck, MI US
Fox Fest, Tangent Gallery, Detroit, MI US
Phase IV, Atomic Cafe, Hamtramck, MI US
Dirty Show 16, Russell Industrial Center, Detroit, MI US
Mixed Bag, Russell, Detroit, MI US
INK2 Exhibition, Tangent Gallery, Detroit, MI US
Zusammenarbeit, Rivers Edge Gallery, Wyandotte, MI US
2014
Corpus Illuminata IV, Tangent Gallery, Detroit, MI US
Detroit Erotica Ball, Bert's Warehouse Theater, Detroit, MI US
Dirty Show 15, Russell Industrial Center, Detroit, MI US
Fire Sale Art Auction, Tangent Gallery, Detroit, MI US
Godzilla Art Show!, The Phoenix Cafe, Hazel Park, MI US
Z-Show 2, Zombie Art, The Phoenix Cafe, Hazel Park, MI US
Re-Facing the Dollar Bill, The Phoenix Cafe, Hazel Park, MI US
Solo Show, City Coffeehouse, Allen Park, MI US
2013
Pinup Art Show, The Phoenix Cafe, Hazel Park, MI US
Corpus Illuminata III, Tangent Gallery, Detroit, MI US
Black, White & Red Show, Fun House Gallery, Detroit, MI US
Mondo Montage, Fun House Gallery, Detroit, MI US
Damned VI, Tangent Gallery, Detroit, MI US
Small Wonders, Tangent Gallery, Detroit, MI US
INK Exhibition, Tangent Gallery, Detroit, MI US
Dirty Show 14, Bert's Theater, Detroit, MI US
2012
DAMNED 5, Tangent Gallery, Detroit, MI US
Poisoned Apples, Fun House Gallery, Detroit, MI US
Dirty Show 13, Bert's Theater, Detroit, MI US
ARTAUDIOANGST V, Tangent Gallery, Detroit, MI US
Hatchback 6, Hatch Gallery, Hamtramck, MI US
HOT/COLD Exhibit, Headspace Gallery, Dearborn, MI US
2011
Color of Winter, Council for the Arts, Wyandotte, MI US
Exhibiting the Reimagined, Headspace, Dearborn, MI US
Artist A Day, Rainy Day Art, Grosse Pointe Woods, MI US
The Winter Art Gallery, Avatar Studios, Clarkston, MI US
Members Show, Council for the Arts, Wyandotte, MI US
Dirty Show 12, Bert's Theater, Detroit, MI US
Open Exhibition, Whitdel Arts, Detroit, MI US
2010
MODOK Exhibit, Headspace Gallery, Dearborn, MI US
Reify Guardian Show, Studio 628, Royal Oak, MI US,
Members Show, Council for the Arts, Wyandotte, MI US
Dirty Show 11, Berts Theater, Detroit, MI US
2009
Members Show, Council for the Arts, Wyandotte, MI US
2006
form::function, cube gallery, Buzz Bar, Detroit, MI US
2002
Undergraduate Exhibit, WSU Arts Gallery, Detroit, MI US
2005 - Bachelors of Fine Art
Wayne State University, Detroit, MI US
2001 - Associate of Fine Art
2001 - Associate of Science
Henry Ford Community College, Dearborn, MI US